Stockez. Partagez. Travaillez.
L'outil professionnel le plus essentiel depuis les e-mails : ownCloud, votre plateforme de fichiers.
Plus de 200 millions d'utilisateurs dans le monde entier
Contrôlez les accès à vos données
Donnez au personnel un moyen facile, flexible et sécurisé pour partager des fichiers et des dossiers. Faites participer des contacts externes à votre entreprise en toute sécurité avec une sélection de documents. Partagez des liens publics protégés par des mots de passe et des dates d'expiration.
Dites adieu aux connexions VPN lentes, aux documents non versionnés joints aux e-mails et au Shadow IT dans les clouds publics à la sécurité discutable.
Conforme RGPD
Règlement général relatif à la protection des données
Conforme LGPD
Lei Geral de Proteção de Dados
Conforme CCRF
Cadre réglementaire applicable à l'informatique dans le cloud
Conforme HIPAA
Loi américaine sur l'assurance maladie (Health Insurance Portability and Accountability Act)
Conforme CCPA
Loi de protection du consommateur de Californie
Améliorez la productivité
Les équipes modernes collaborent depuis n'importe où et depuis tous les périphériques. Offrez leur plus d'efficacité en leur permettant de stocker, de partager et de travailler sur leurs données et documents via un point d'accès unique.
Travaillez simultanément sur des documents, créez des présentations ensemble en temps réel, annotez des fichiers et bien plus, en gagnant du temps pour la coordination et les procédures de retour d'information.
Nous pensons que les besoins en matière de souveraineté sur les données et de collaboration en temps réel peuvent être conciliés dans des clouds privés. Découvrez comment nous pouvons vous aider à obtenir la souveraineté numérique.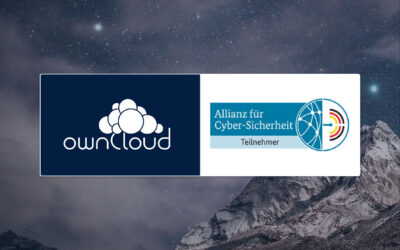 ownCloud is now a part of the Alliance for Cyber Security. With this, we have now joined a group of leading organizations working towards stepping up efforts to prevent, detect and react to cyber threats and further enhance our data protection commitments.
lire plus
Präsentation von CTO Klaas Freitag vom Linux Presentation Day 2022 –
Einfaches, sicheres Filesharing mit ownCloud.
lire plus
Nuremberg, May 10th 2022 – ownCloud has released the beta version of its new data platform: Infinite Scale.
lire plus
Soyez informé de nos prochains projets
Inscrivez-vous à la newsletter ownCloud :
* Mandatory field
By submitting this form I agree that I want to to receive notifications and services via email, phone or personalized ads. Therefore, I agree, that ownCloud stores and uses my contact data for further information and in order to optimize and adapt the offer to my individual interests. I can revoke my consent for the future at any time, either directly via the link in emails or by email to . For further information please also see the Privacy Statement.