ownCloud, your collaboration tool
ownCloud, la vostra piattaforma per i file. Lo strumento aziendale più importante dopo l'e-mail.
Già scelto da 200 milioni di utenti in tutto il mondo
Controllate chi può accedere ai vostri dati
Offrite al vostro personale un modo semplice, flessibile e sicuro per condividere file e cartelle. Coinvolgete in modo sicuro i contatti al di fuori della vostra organizzazione su documenti selezionati. Condividete link pubblici protetti da password e date di scadenza.
Dite addio alle connessioni VPN lente, ai documenti non revisionati, agli allegati alle e-mail e allo Shadow IT in cloud pubbliche di dubbia sicurezza.
Pronto per il GDPR
Regolamento generale sulla protezione dei dati
Pronto per la LGPD
Lei Geral de Proteção de Dados
Pronto per il CCRF
Quadro normativo del cloud computing
Pronto per l'HIPAA
Legge sulla portabilità e la responsabilità civile dell'assicurazione sanitaria
Pronto per la CCPA
Legge sulla privacy dei consumatori della California
Aumentate la produttività
I team moderni collaborano da qualsiasi luogo e da qualsiasi dispositivo. Rendeteli più efficienti consentendo loro di memorizzare, condividere e lavorare sui loro dati e documenti attraverso un unico punto di accesso.
Lavorare contemporaneamente su documenti, creare presentazioni insieme in tempo reale, annotare file e molto altro ancora, risparmiando così tempo sui processi di coordinamento e di feedback.
Crediamo che le esigenze di indipendenza digitale e di collaborazione in tempo reale si possano conciliare nel cloud privato. Scoprite come possiamo aiutarvi a ottenere la sovranità digitale.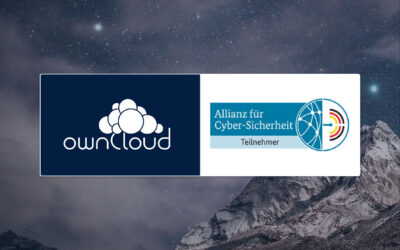 ownCloud is now a part of the Alliance for Cyber Security. With this, we have now joined a group of leading organizations working towards stepping up efforts to prevent, detect and react to cyber threats and further enhance our data protection commitments.
leggi tutto
Präsentation von CTO Klaas Freitag vom Linux Presentation Day 2022 –
Einfaches, sicheres Filesharing mit ownCloud.
leggi tutto
Nuremberg, May 10th 2022 – ownCloud has released the beta version of its new data platform: Infinite Scale.
leggi tutto
Iscrivetevi alla newsletter di ownCloud:
* Mandatory field
By submitting this form I agree that I want to to receive notifications and services via email, phone or personalized ads. Therefore, I agree, that ownCloud stores and uses my contact data for further information and in order to optimize and adapt the offer to my individual interests. I can revoke my consent for the future at any time, either directly via the link in emails or by email to . For further information please also see the Privacy Statement.