Using Secure View, documents of all common Office formats* and PDF can be provided with comprehensive restrictions.
Watermarking
Each document is automatically secured with an individual watermark
No editing
Documents can only be read and cannot be changed
No copying
Contents cannot be extracted by copy/paste
No downloading
It is not possible to download the document
Documents stay in your data center
The content of the document is sent as a stream to the recipient's browser
Optional: Print/export to PDF including the watermarks
If desired, the recipient can be allowed to download the document (including watermark)
*OpenXML (.docx, .pptx, docx), PDF, ODF (.odt, .ods, .odp) and other formats supported by Collabora Online
Watch the video: ownCloud X Insights – Secure View
Unmatched security with ownCloud Secure View
The Secure View restrictions prevent the recipient of a file from editing or downloading it, copying/inserting content and from printing the document (can be allowed, if needed). Additional to that, every document has a watermark embedded that displays individual user information. This ensures that it is always possible to draw conclusions about the person who passed on the document (without permission) – even when taking a screenshot or photo.
Unlike competitive, we do more than just hide the download in the user interface, while leaving your documents vulnerable to downloading via desktop client, mobile apps, API, or deep links. We guarantee this functionality and back it up with our Security Bug Bounty Program. Additionally, the document isn't sent to your browser, it stays on the server with a stream of the document sent to your browser for viewing only.
The protected document itself never leaves the server.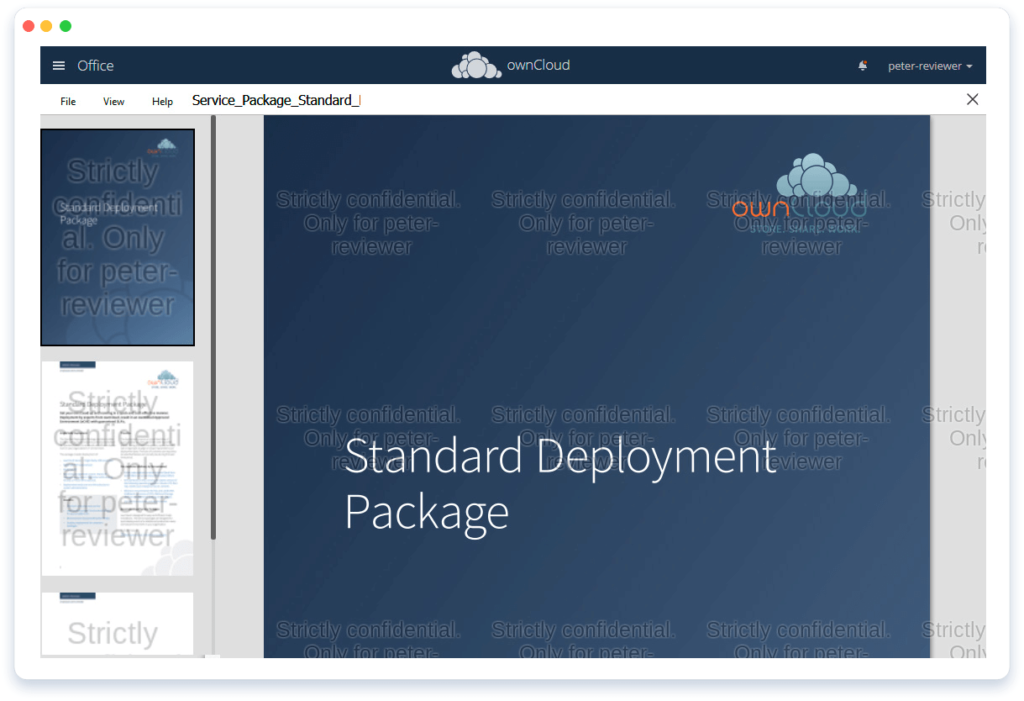 Try ownCloud Secure View Now
Install the Enterprise App Bundle and get to know our Enterprise functionalities within 30 days.
ownCloud is the open platform for more productivity and security in digital collaboration. Learn more about our Enterprise Apps now!
Try now
Contact Sales
Please fill out the form below to get your download.
---
By submitting this form, you are granting ownCloud GmbH permission to contact you. You can revoke permission any time using the unsubscribe link found at the bottom of every email or by sending an email to info@owncloud.com