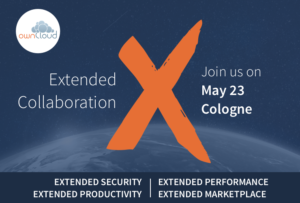 Are you using the ownCloud in a business environment? Probably it suffices for your needs, but there is a lot more potential in ownCloud and other interesting use cases, which can also benefit you!
As we are introducing ownCloud X Enterprise at our launch event in Cologne, ownCloud experts are coming together to share their experiences and most recent developments.
Would you like to see other use cases of ownCloud and explore the full potential of your installation?

Register here for the event on May 23 in Cologne:
https://owncloud.com/de/lp/owncloud-x/
Here are some ways how you can justify your trip:
Up-to-date and up-to-speed
ownCloud X is the must-attend event for ownCloud admins, users and developers.
The event provides them with the opportunity to share their expertise, listen to the best in the field, learn best practices, see results in action and try out new ideas on the ownCloud platform. See exciting new use cases and business opportunities around ownCloud.
Expert help and business contacts
Speakers, participants and sponsors at the ownCloud X event represent a wide range of technical solutions, services and product offerings.
You will find key influencers and business representatives to talk to if you need expert advice.
Key take-aways
Armed with a boost in know-how and productivity, attendees of the ownCloud X event will afterwards be able to help their companies to:
Introduce up-to-date approaches and best practices in all areas of ownCloud deployments and business models
Boost reliability, versatility and sustainability of their owncloud deployment
Speed up development
Reach the market faster than the competition
And last but not least, keep your developers and admins happy and productive
All information around the event can be found here:
https://owncloud.com/de/lp/owncloud-x/