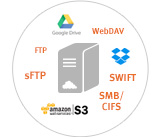 ownCloud has always provided options when mounting remote folders inside of ownCloud, but ownCloud 8.1 has taken this to the next level with added and expanded mount options for external storage. These additional mount options enable administrators to configure ownCloud to meet their unique performance and use case requirements.  When mounting storage, administrators can now decide, on a mount by mount basis, how best to configure those options to meet their requirements, including:
Previews/thumbnail generation that can be turned on or off; this allows the admin to manage their server load and to turn on/off for performance reasons.
Storage backend scan behavior that determines how often ownCloud looks for changes in external storage files; this allows the admin to tune the approach to managing ownCloud metadata for improved performance and control.
New authentication mechanisms for CIFs drives and sFTP servers; Allows the admin additional configuration options for authenticating users with external storage.
Until the release of the Enterprise Edition of ownCloud 8.1, scheduled for August 11th, be sure to check out these two videos from our community that demo configuring external storage as well as your storage options in ownCloud 8.1 Server as a preview of what's to come in the Enterprise.