What is Buttercup?
My greatest experience so far in the open-source world? Easy: For almost every classic big tech product or SaaS provider, there is a good and feature-rich open-source replacement. So I've embarked on a non-techie quest to becoming digitally sovereign. Meaning I want to be in control of where my data resides, who has access to it and what it's being used for. I want the freedom of choice to import and export data or switch between tools. This is easier said than done, but I already managed to replace Dropbox with ownCloud, Evernote with Joplin, Google Search with DuckDuckGo and Chrome with Firefox. Next up: Moving from my old 1Password 6 set-up to open-source password manager Buttercup.
A multi-platform open-source password manager
Buttercup is a password manager – an app in which one can store and access all passwords, credentials and identities through a single master password. Using a password manager is important because most data breaches and phishing attacks happen because of insecure, re-used passwords. Furthermore, at least in my case, it is not sufficient to rely on platform-dependent password managers like the ones that come inside a browser (because of security concerns) or e.g. the MacOS system password manager (compatibility difficulties). Buttercup is simple, beautiful and, most important, open source. The app can be downloaded for MacOS, Windows, Linux and on mobile devices for iOS and Android. There is even a browser extension for Firefox and Google Chrome. In order to be able to access all passwords not only on one device, the vault can be synced using file sync and share platforms like Dropbox, Google Drive or ownCloud via WebDAV. Recently the Buttercup team announced they will provide a Buttercup server in the future for even more stable synchronization and a set-up for multiple users and teams.
How to set-up ownCloud and Buttercup
First go to the Buttercup website and download the app for your desktop computer. After the download has completed open Buttercup and you will find a nice big button to "Add archive", choose "New archive file" here.
Then you are asked to give your vault a name and select a location where to save it – this should be in your ownCloud instance, navigate with your Finder or Explorer to the respecitve location. You can either save it in the root directory of your ownCloud or – as I did – create a new parent folder called "Buttercup" for your vault.
After that insert a master password and confirm it, you'll need it to access your passwords in the future and on every device (do not loose or forget it!). Your master password should contain upper and lower case letters, at least one number and special character. Buttercup will let you know if your master password is already safe.
This is how your new vault looks like. You can now start saving passwords and credentials on your desktop computer.
The next step, however, is to sync your passwords across multiple devices as you surely want to log in to your email account on your mobile phone as well. Download the Buttercup app from the App Store or from the Google Play Store.
As soon as you have opened it click in the top right corner and select "Add".
Your go-to choice here is the "WebDAV" option to connect your vault from your ownCloud with your mobile device.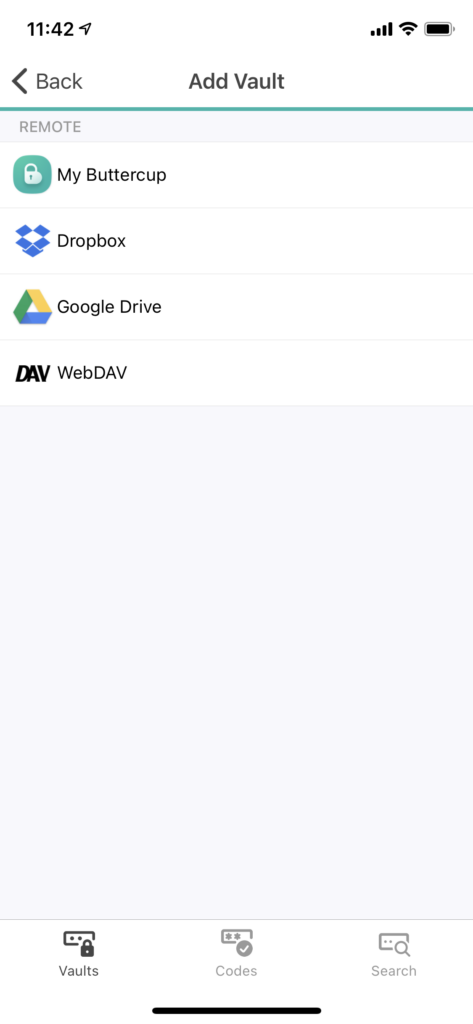 Enter your ownCloud WebDAV URL which in most cases is https://[yourowncloudurl.com]/remote.php/webdav.
Finally, set your ownCloud username and password. Now you can navigate in your folder tree to the location of your Buttercup vault and click on your .bcup file. Enter your master password and your vault name (the same as the file name of your .bcup file).
That's it! Your passwords now get synced via your ownCloud across multiple devices.
Buttercup also works on your tablet and you can set it as well as your default password manager on iOS to auto-fill credentials on your iPhone. On a personal note: I especially like the feature to organize passwords in folders giving me a nice and clean overview and straightforward access to the credentials I need.