Next to the testpilot version of our new desktop client, new versions of ownCloud mobile client apps are now officially available:
ownCloud Android app 2.4.0 and ownCloud iOS app 3.6.0.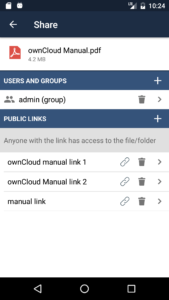 These releases will enable you to enjoy all the power of ownCloud X in your mobile devices. The apps now support multiple public links per file, and the share view now is much more similar to the web UI. Furthermore, if the 'custom groups' app is installed in your server, mobile apps will enable you to share with your custom groups as with any other user or group in the server.
Video Streaming
A long-awaited feature for mobile devices included in this version is video streaming. From now on, both iOS and Android apps will play MP4 video files in your server just with one tap. There is no more need to wait for downloading your full videos to start watching them. If you really need them down, find the 'download' action in the contextual menu of the file.
Another major update, in this case just for Android, is the automated retry of transfers interrupted by lack of connectivity. This feature will impact mainly to users of Android 6 and Android 7 devices, where Doze and App Standby, the battery saving systems, have been messing for a while with the success of big downloads and, specially, with instant uploads.
Find here the full changelog for the Android and for the iOS version of the mobile client.
The mobile clients are already available for download in Apple App Store and Google Play Store. The workaround app for Jelly Bean is also updated in Google Play Store, for those of you that still need it.
The source code of this release can be found in https://github.com/owncloud/ios/releases/tag/version_3.6.0 and https://github.com/owncloud/android/releases/tag/oc-android-2.4.0.
For discussions or any help in setting up we recommend to try ownCloud central first; for real confirmed bugs, work in progress, and code contributions, please submit on Github: