Secure cloud storage is digitizing the public sector
Governments and their subsidiaries handle citizen's most sensitive data. Taxpayers increasingly expect efficiency improvements through innovation. ownCloud reduces costs and streamlines legitimate collaboration while preventing and deterring abuse.
Enabling digital sovereignty through a secure and open-source storage & file access platform. Empowering civil servants to work efficiently. Policy-driven and fully auditable to protect personal data.
Digitizing the public sector boosts efficiency and citizen-orientation
Most citizen-facing processes are ripe for modernization – from taxation authorities to vehicle administration to law enforcement to social services and local government. Since most have historically been paper-centric, the potential benefits of electronic document sharing for more efficiency and citizen-oriented governance are enormous. As are the risks: Data protection and data security are non-negotiable conditions to be met.
Digitizing the public sector using public cloud solutions puts data beyond the control of both governance and the respective IT departments. Closed-source software makes it hard to spot weaknesses and backdoors. Both are significant threats to data security and data protection.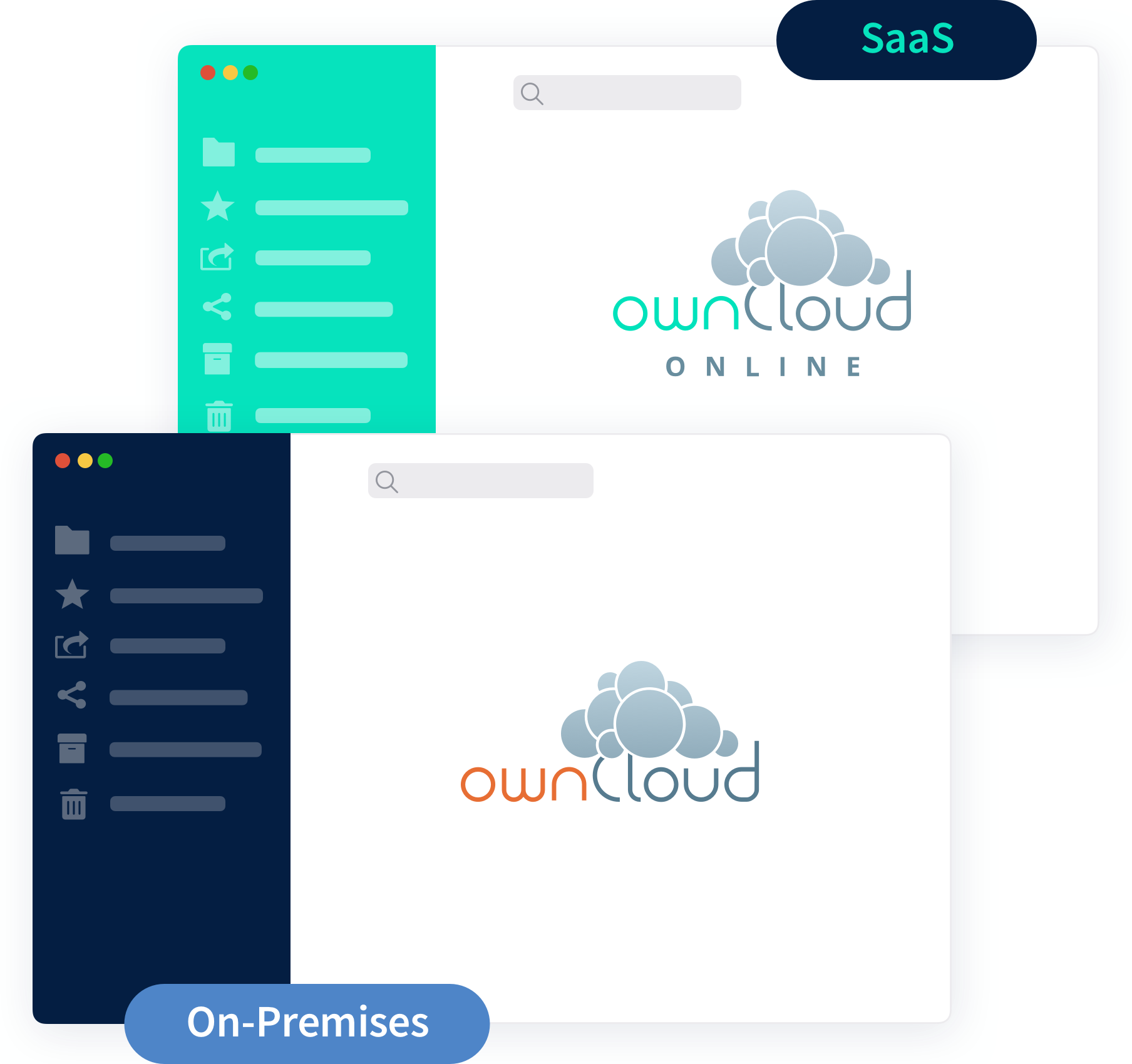 Enterprise File Sharing backed by state-of-the-art open-source technology
ownCloud is a popular storage & file access platform for government agencies and departments. It offers the security levels only attainable through on-premises or private cloud deployments and auditable open-source code. It also delivers the speed and ease-of-use of consumer-grade file sharing applications so organizations avoid staff using shadow IT beyond the control of both governance and the IT department.
ownCloud provides a single point of access to files so they are securely stored and efficiently accessible for legitimate purposes while auditably logging access to meet data protection regulations.
ownCloud encrypts data at-rest, in-transfer and optionally even End-to-End. Confidential documents can be made available to select users through Secure View, a read-only Secure Data Room.
ownCloud integrates seamlessly with every part of the IT fabric – from user directories to security systems to office suites to monitoring and back-up services – ensuring that sensitive data remains under control at all times. ownCloud can even integrate existing legacy data silos so they are conveniently usable through a single point of access.
ownCloud can accommodate Guest Users, which is handy to let an ombudsperson, regulator, official watchdog, parliamentary oversight panel or other elective or appointed body do their jobs.   
Its state-of-the-art performance makes ownCloud the file access platform of choice for top-notch research institutions like CERN and the Max Planck Society. For agencies with open source procurement policies, ownCloud is available under a AGPLv3 license and is backed by the largest community of any open-source File Sync and Share software in the world.
See how ownCloud helps the public sector to:
Manage data access and file lifecycles
Restrict files automatically based on content and tags. Archive and delete files that are past their due date. Log actions of users and admins for compliance and security.
Facilitate internal and Inter-Agency Collaboration
Let staff share files and folders with colleagues or even users of other ownCloud instances and compatible Clouds. It makes collaboration in and across organizations easier. Restrictable through classification, auditable through logging.
Deliver secure mobile productivity
Government workers of all stripes are increasingly mobile and need to access documents while in the field or at home. ownCloud's mobile applications make secure mobile file sharing a breeze. Users can browse, download, edit and upload files with tablets and smartphones, featuring advanced security locks and encrypted data transfer. 

* Mandatory field
By submitting this form I agree that I want to to receive notifications and services via email, phone or personalized ads. Therefore, I agree, that ownCloud stores and uses my contact data for further information and in order to optimize and adapt the offer to my individual interests. I can revoke my consent for the future at any time, either directly via the link in emails or by email to . For further information please also see the Privacy Statement.
We are looking forward to hearing from you!
Non-binding offer
Presales contact to resolve technical questions
For on-premises, managed or SaaS deployment
Enterprise tiers from 25 users
Special conditions for educational and non-profit sector