ownCloud Server 9.0 is the biggest ownCloud release so far with major enhancements like the introducion of innovative collaboration features, improvements to scalability and bringing federation to a new level. Read on to find out what's new and watch our demo videos below!
With 8 million users, ownCloud is worlds' leading file sync and share solution providing users with a safe home for all their data. Founded six years ago as a project with the goal of bringing privacy and control back to users, ownCloud is where it is today thanks to contributions by well over 1000 open source programmers, designers, translators and others.
Grab the latest and greatest from our awesome community at our installation page. You'll find, besides zip files and packages for a variety of Linux distributions a set of Virtual Machine images (these might still be building for 9.0) to help you get up and running as soon as possible. We will publish a blog with tips and tricks on how to upgrade tomorrow, stay tuned!
To try out ownCloud 9.0, you can also check out our online demo.
If you use ownCloud in a enterprise setting, please note that the ownCloud Server 9.0 Enterprise Edition is coming next month. The upgrade with the built in updater app is scheduled to come over the coming 4 weeks as well. We do this to 'stagger' the roll-out of updates, a bit like mobile phone updates are done these days.
What's New
Imagine:
"During your holiday your phone automatically uploads taken pictures to your ownCloud at home. Back, you tag them for easy finding later ("Holiday, Diving, Hawaii") and share with your parents, who run their own ownCloud server, and your boyfriend's account on your server. While typing their user names, auto-complete makes it easy to select them, just like user accounts on your own server. They get a notification on their phone and accept your share. You see in your activity feed that your boyfriend commented on some of the pictures and you reply."
Just a taste of what's new in ownCloud 9.0 – tags, comments, notifications and much more!
Innovative Collaboration
The introduction of comments and tags combined with the improved notifications and activity feed allows better user interaction. You can comment on any file and others you shared the files with can see the comments and reply. Tags will help you organize your files, giving you the ability to filter files on tags in the left sidebar.
The updated notifications separate out the activity feed with a view of what's happening with your files from events you should respond to like new shares or calendar notifications. This makes it a lot easier to keep track of what is going on with your data!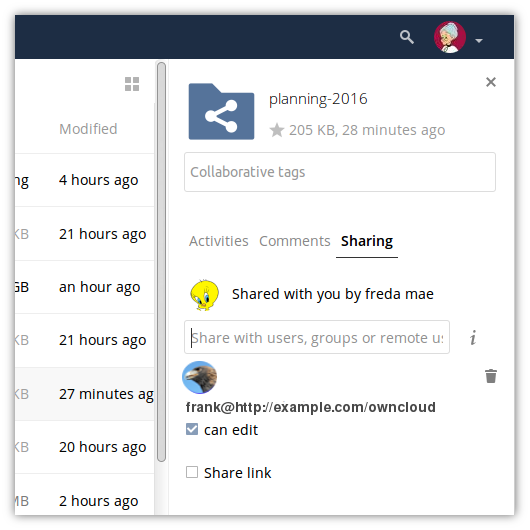 learn more about comments, tags, notifications and what you can do with them!
Full Federation
Sharing between different ownCloud servers is smoother than ever with cross-server user name auto complete, trusted servers and more. Once you've shared with another ownCloud server, it will be added as trusted server, exchanging user names. This will enable ownCloud to auto complete names from users of all servers you regularly share with. Admins have control over these features, so they can add trusted servers manually and disable the automatic addition.
learn more about working with others across ownCloud servers.
Ultimate Scalability
A new storage API enables deeper integration with storage solutions and updated sharing code handles more shares with more users.
In collaboration with international research institutions like CERN and AARNet (see article on opensource.com), the ownCloud community has introduced new API's which let users of massive ownCloud installations (petabytes of data and hundreds of thousands of users) integrate deeply with their infrastructure. This enables ownCloud to scale to incredible levels, breaking existing barriers for file sync and share!
The sharing code was reworked to enable better performance and more predictable behavior. End users will notice that when re-sharing files shared by others, the original sharer retains more control over his or her data. If, say, user 1 shares with user 2, who shares with user 3, user 1 will be able to see the share to user 3 and can decide to change permissions or remove the share. Moreover, when the share with user 2 is removed, user 3 is still able to access the files until user 1 decides to revoke their permissions.
learn more about how ownCloud has risen to a new level of performance and scalability.
And more
Besides these major improvements, there has been work in many other areas of ownCloud:
Both Calendar and Contacts have been updated for ownCloud 9 while the Mail app is a relative newcomer but getting into shape.
A brand new, stand-alone updater will ensure smoother upgrades from 9.0 and onwards
Code Signing ensures the integrity of your ownCloud installation
Extended the output details for occ scan:files
App updates are more visible
learn more about the many other features of ownCloud!
ownCloud 9.0 for Enterprises will be made available in four weeks, introducing additional business focused functionality on top of the community release.
Grab the latest and greatest from ownCloud at our installation page or read our upgrade blog to get the new release!