ownCloud Overview
ownCloud is an enterprise file sync and share solution that is hosted in your data center, on your servers, using your storage. ownCloud provides Universal File Access through a single front-end to all of your disparate systems. Users can access company files on any device, anytime, from anywhere while IT can manage, control and audit file sharing activity to ensure security and compliance measures are met.
With over 8 million community and enterprise users, ownCloud is the preferred file sharing solution for organizations across the globe.
The Reality of the IT Landscape
Your IT landscape is complex, and often inherited. You have storage systems, servers, private cloud management tools, log managers, backup tools, and lots more already deployed in the enterprise and you don't want to add another silo to enable secure file sharing for your employees. But you also don't want your corporate confidential information being passed around in consumer-grade applications across multiple devices. You are looking for an answer that lets you leverage your existing infrastructure without duplicating or moving data. Further, you are looking to regain control while enabling collaboration and on-the-go productivity that is demanded by your workforce.
We think we can help.
The ownCloud solution –
Universal Access to All of your Data
ownCloud provides Universal File Access through a common file access layer regardless of where the data lives – in applications, object stores, on-premise storage or in the cloud. Data is kept where it is while IT is able to manage proprietary information and business risk; leveraging existing data management, security and governance tools and processes.
Whether in SharePoint, on a Windows network drive or in cloud storage, users have a single interface from which they can access, sync and share files on any device, anytime, from anywhere — all completely managed, secured and controlled by IT.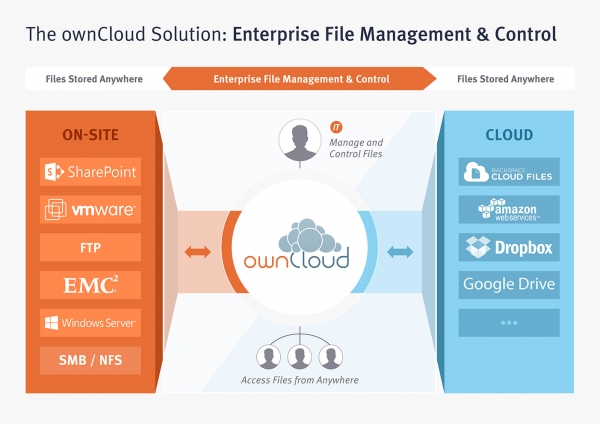 Built with a goal of providing enterprise file sync and share, ownCloud provides the same simple interface to admins, but has extended the ability to integrate more and more data—both on-site and in the cloud. Users have access to a full suite of file sharing features, and can work collaboratively at their desks, from their laptops, on their tablets and on their phones. ownCloud is fast and easy to install; you choose the servers onto which ownCloud is installed and integrate with files where they are stored. Wizard interfaces enable you to integrate ownCloud with existing Active Directory/LDAP services (and any authentication service accessible via SAML), SharePoint, Windows network drive(s) and ownCloud's File Firewall provides you with advanced rules-driven access controls.
ownCloud integrates seamlessly with your existing security, DLP, MDM, event logging, monitoring and back-up systems. And ownCloud's open architecture and APIs allow you to easily add corporate branding, and extend core functionality as needed to meet your evolving needs.
Learn more about the features in ownCloud Enterprise Edition.
Subscriptions
ownCloud Server, the community-powered open source project formerly known as the Community Edition, is the base of ownCloud, and with it comes two available subscriptions. ownCloud Standard Subscription is a clone of Server, with 8×5 email support and is ideal for professionals who do not require enterprise features. ownCloud Enterprise Subscription offers everything Server offers but with enterprise-class email and phone support (12×5 up to 24×7) and enterprise applications.
The following resources will provide you with a closer look at ownCloud:

Minimum System Requirements
Server OS, requires PHP 5.4 or greater
Fully packaged:
– Debian 7, 8- RHEL / CENTOS 6.5, 6.6, 7 (Support ends December 2015)
– Ubuntu 14.04 LTS and 15.04
Available only as a tar archive:
– Ubuntu 12.04
– SLES 11 SP3
– SLES 12
Webserver: Apache
Databases: MySQL 5.1 or higher; PostgreSQL 9.1.14 or higher; Oracle 11g+ (Oracle is Enterprise Subscription only)
Apache: 2.4
Hypervisors: Hyper-V, VMware ESX, Xen, KVM
×